This page gives you an overview of some of the Equipment used by the Brigade. We have recently acquired new radios and audio visual equipment thanks to funds raised by the community.
We also received a new Cat 1 Tanker to replace the previous one that was 14 years old. Read the full story here.
Tankers
We have two Izuzu tankers:
· Izuzu Category 1 Tanker takes 5 crew, 2 in the front and 4 in the rear
· Izuzu Category 7 takes 3 crew in the front
The tankers are equipped with the following:
· Four wheel drive
· Radios including charging receptacles for both PMR radios and fireground radios (see below)
· Water Tank
· Water curtain to provide a spray over the cabin in the event the truck is overrun by a fire. This can be activated from within the cabin. Nozzles also direct water on the tyres
· Pump
· Fire blankets to cover the crew in the event the tanker is overrun by fire
· The Cat 7 tanker also has drop down reflective curtains on the inside of the cabin
· Foam dispenser and foam containers. This is controlled from the rear of the tanker Emergency lights and siren
· Drip torch & fuel containers
· Chain saw & pole saw
· Storage for eskies etc
· A range of different sized hoses. The hoses allow water to seep through the surface in order to keep them wet and protect them from fire. They roll flat and can be quickly rolled out along the ground when deployed
Radios
Two types of radio are used by the brigade:
· PMR (Private Mobile Radio) radios use UHF and are used as essentially the management system for communication between Hawkesbury Fire Control Centre (Firecom) and our tankers (Kurrajong Heights 1 and Kurrajong Heights 7)
· Fireground Radios are VHF radios used by crew on the fireground for communications between each other. Each fireground is assigned a channel and all crew set their radios to that channel
Training Equipment
Our old AV Projector was acquired from the school and has officially expired. We are looking to purchase new equipment to meet our training needs.
Buoy Walls
Buoy Walls are filled with water to provide a temporary reservoir during bush fires.
Fire Pumps
Fire pumps are used to draw water from dams and pump into the tankers as well as connecting to Standing Water Supplies (SWS) and used to power fire hoses to protect assets.
The Fire Shed
The Shed has two large water tanks with connections to fill the tankers and supply water to the shed.A large pole at the rear of the Shed is used to hang up the fire hoses to dry after they have been washed in the large basin.
Absorbent
Absorbent is carried on the Tankers and used to mop up fuel spills in motor vehicle crashes
Pumps Control Panel on Tanker

Deep Sink for Washing Hoses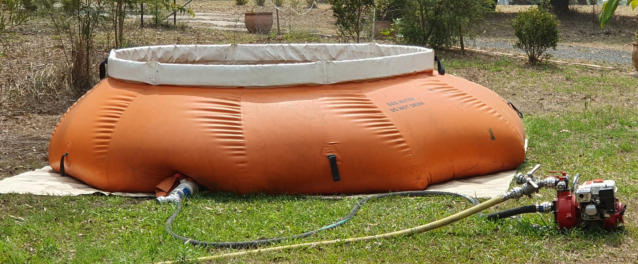 Buoy Wall for Water Storage
Absorbent mops up fuel in MV crashes